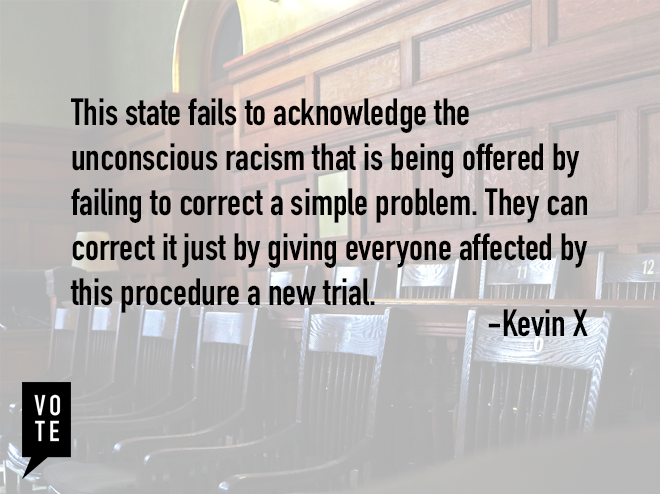 Legislators at the Louisiana Capitol have expressed various motivations regarding prison issues, including the current legal challenge regarding approximately 1500 people who languish in prison with non-unanimous convictions. Most of these people are currently sentenced until their death. The U.S. Supreme Court instructed Louisiana that retroactively reversing these (now universally recognized as) unconstitutional convictions is up to them, and both the legislature and courts have been called upon to act.
VOTE's most recent email to legislators regarding HB 1077 invited them to visit people in prison and ask their views on the bill. And only yesterday, in a hearing regarding counting incarcerated people as "residents" of a district for the purpose of apportioning legislative power, several legislators expressed their close connection to the prisons. Rep. Lacombe, who represents 6000 residents confined in Angola, called them a part of the "community." Rep. Deshotel, who represents people confined in two prisons in the Cottonport area mentioned his support for capital outlay projects (a.k.a. prison construction and repairs). Rep. Ivey explained how he hears from people in prison "all the time," albeit via family members of the currently incarcerated. Rep. Gaines, who sponsored HB 1077, has expressed how he is trying to help the 1500 convicted through Jim Crow trials, and believes this bill, creating parole eligibility, may be the best we can do.
Despite all those declarations of community, we've heard no responses from lawmakers wishing to visit. Here is a sampling of what they would hear from people actually locked away without a key.  [formatted for clarity]
Keith A.
"Now, to express the general sentiments of those incarcerated, concerning the DEATH BILL HB 1077. 
Most of the 10-2'ers I've talked to are not only opposed to, but in utter disbelief by the sham that the legislature is attempting to enact by this bill. Here are some viewpoints:
The Special Committee on Parole amounts to a 13th juror, or basically a retrial of our cases. 
The impaneling of members: 

Three retired judges- what will be their political slant? (will the Governor consider or be prohibited from considering Ret. Justice B. Johnson?) 
One retired District Attorney- will this selection be from one of the parishes that is against granting relief of non-unanimous juries? 
One retired public defender- after finding that the IDB [Indigent Defender Board] was unconstitutionally ineffective, could a petitioner elect to hire a private attorney for adequate representation?

Section F(1)(e) stipulates that the DA will be permitted to file a written response to the petitioner's application. Will the petitioner be allowed to submit a Brief in Support of his PCR, or traverse the state's rebuttal? 
Section 2(b) allows for any testimony of the petitioner or victim. Will this infringe upon the petitioner's 6th Amendment right to confrontation and cross – examination? 
Miscarriage of Justice is clearly established by the non-unanimous jury verdict itself. 
Vote for parole. * 3/5 for non-lifers * 5/5 for lifers. Why the disparity of votes for the same finding of erroneous application of the law? 
Submit entirety of records: An extra burden on petitioner. * costs (upward of $300 for transcripts) * time of obtaining documents will toll the time period for filing for parole. 
Section 2 stipulates that "The provisions of this Act shall terminate either three years after the effective date of this Act or upon a ruling by the Louisiana Supreme Court that the holding in Ramos v. La. is retroactive. * If this board will be terminated in 3 years, by mathematical assumption, this Board will have to review; * 1500 cases in 36 months; * 500 cases a year; * 42 cases a month; * 10 cases a week; * 2 cases a day. Albeit, this will be in lieu of reviewing court documents that are on the average of 500-800 pages a case. Can these "Super-Justices", with legal clarity; review, discuss, deliberate, and decide the fate of two cases a day, every week, every month, for three consecutive years? 
Continue reading

Voices from Inside: Our Currently-Incarcerated Members React to HB 1077