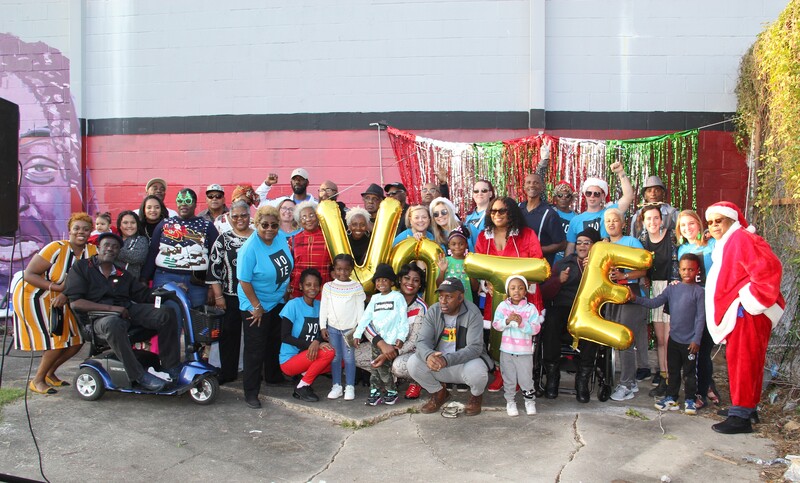 This was a big year for VOTE, from our large-scale policy wins, to the personal wins from each of our members. In 2019, we saw yet again that our organization is powered by the perseverance, hope, and vision of hundreds of members, dozens of partner organizations, and about 20 staffers. Here's what this unstoppable cohort of changemakers considers to be our top 10 wins of this year: 
1. Our loved ones came home
Several VOTE members or their loved ones got out of prison this year. Some of them had been locked up for more than 40 years. "I'm blessed," says VOTE member Cornell Hood who recently came home after doing many years of a life sentence. "Being able to be free and work a stable job [is] my win."
2. We improved our health
Getting healthy was many of our members' top win this year. "I'm thankful to be alive and free," says one VOTE member. We know a healthy body and mind are necessary to do this work. That's why we partner with Tulane University to run the Formerly Incarcerated Transitions (FIT) Clinic, which provides formerly incarcerated people with quality healthcare after they come home. We're proud to say that in the past year we've hired two full-time, formerly incarcerated community health workers who will be bridging the gap between FIP medical needs and the services available!
3. We had policy wins
Every fall, we work to elect the right people so that our policy proposals get into the right hands. This year we had some notable wins, like "taking a bite out of the habitual offender [three-strikes] statute," as one VOTE member described it. We'll come back stronger next year, with the goal of taking two or more bigger bites. Another win was the enactment of a unanimous jury requirement for sentencing someone who's being charged with a felony, which began on the 1st of January. "I felt this win personally," shares member Darlene Jones, who sat on a jury that ended up convicting someone for murder with only 10 out of 12 votes. She felt that "the prosecution hadn't even proven the case." Non-unanimous jury convictions like the one that Darlene witnessed are no longer possible as of January 1, 2019. People still awaiting trial on arrests that happened before Jan. 1 and those already incarcerated on split juries do not get the benefits of this newfound justice. In other words, our fight to make the unanimous jury law retroactive still continues. 
4. We voted for the first time!
Thanks to our legislative victory last year, Act 636 went into effect on March 1 of this year. This meant that this year was the first time many people with convictions were able to register and then vote! Voting as FIP marks the restoration of one of our core civil rights. "My high moment was the fact that I was able to vote for the very first time," says VOTE member Donald Arbuthnot. "That blew me away.
5. Then we got out the vote
In addition to voting for the first time, countless members of the VOTE family also joined forces in canvassing, registering, and poll monitoring to make sure Louisianans voted in the fall elections. "It was a win to see young people from 21 to 23 as well as older people ages 50 and up getting involved," one VOTE member says. "Age didn't matter. The one goal was to get people out to vote. It's important." As a result, we re-elected many candidates who we believe are best suited to push justice reform with us in 2020 and beyond!
6. We re-discovered our power
As we dove into our get out the vote efforts, many VOTE members also gained a deeper understanding of what political power means, including what seats are elected, how each position works for us, and how we can hold them to what they promise to do for our communities. As our fearless leader Norris Henderson says, "I vote because I understand the accountability that comes with it." This year, more members than ever before alsotestified in front of elected officials, whether in the chambers of New Orleans City Council or in halls of the Louisiana State Capitol. "I spoke in front of both the City Planning Committee and the City Council for the first time to voice my opposition to the expansion of Orleans Parish Prison," says our member Lauren Nguyen. "VOTE was the reason for that." Elected officials are listening more intently than ever, too, and it shows. As one example, both the City Planning Committee and City Council voted unanimously to decrease the number of people allowed to be locked up in OPP. As one VOTE member reminds us, this year we earned an official nickname among legislators: the blue shirts.
Social movements can't happen in silos. That's why almost everything we do is with at least one partner organization that shares our values and visions. Our members are the weavers between partner organizations, strengthening the fabric of our entire movement. For example, VOTE member Wan Qi Kong participated in the 9th Annual NOLA to Angola bike ride this fall. "Completing the ride deepened my commitment to justice reform work," she says. "It was a beautiful and moving experience." Other members have brought new partnerships into our fold by running a toy drive for children with incarcerated parents and starting a prison ministry called Abolition Apostles–a few of many examples. 
8. We grew
Our statewide network has more members now than we've ever had before. "I learned about VOTE this past summer from a friend and made it my mission to get more involved," a New Orleans member told us. Another said that they felt inspired to come back after many years away. In addition to the growth of our main chapter in New Orleans, we've seen the same in our three other chapters in Baton Rouge, Lafayette, and Shreveport. In the new year and beyond, we're committed to developing these three other chapters, and one way we've already done that is by hiring four more full-time organizers. Additionally, our partner organization Voters Organized to Educate, which can lobby, endorse candidates, and get closer to political issues in the movement, hired its first full-time staff. We're excited to work with all of the growing branches in our ever-expanding tree!
9. We deepened friendships
Our organization was started by several friends who had the shared experience of being incarcerated and were committed to changing their fate. Relationships are what keep this movement united, and we're proud to be the reasons that many VOTE members became fast friends. "I was able to meet new friends this year who share the same passion as myself–fighting for justice," says one VOTE member. These friendships remind us that what we're building is a movement based on love.
10. We committed to gaining more wins
One VOTE member had a poignant message for us to remember as we celebrate this past year. "I'm waiting to receive my win," he says, reminding us that there's always more work to do, and more wins to be had. As we move into 2020 and beyond, these truths will echo in our ears. 
These wins prove that VOTE is on the up and up. And they would not have been possible without the continued support of our community. Please consider us in your year-end giving. Make a donation here. Just like our wins, no donation is too big or small.