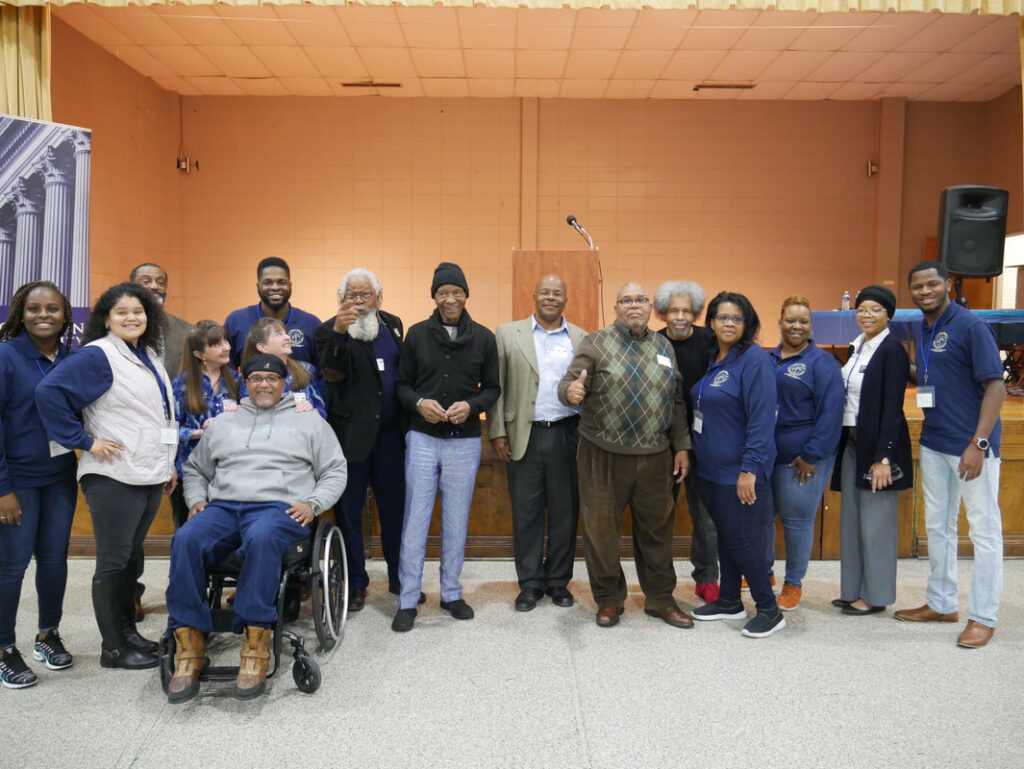 Last Friday VOTE gathered alongside other justice reform advocates the inaugural Underground Railroad to Justice Summit hosted by Southern University Law Center. The day's sessions spanned from current policy strategies to attracting media attention, but the resounding message from the summit was unified: our movement is strong, and it must keep growing in order to keep winning.
More than 25 Louisiana justice organizations came to the summit, proving the unstoppable power of our movement. Together we reiterated the importance of holding every part of the system that has locked us up and locked us out accountable. 
East Baton Rouge Parish Prison (EBRPP), for example, has a death rate twice the national average. A large contributing factor is that this jail, like many across the country, are treated as a mental health facility. For this reason the East Baton Rouge Parish Prison Reform Coalition focuses on proper mental healthcare and eliminating pretrial detention. "People are often taken to pretrial detention in moments of [mental health] crisis," says coalition member Rev. Anderson, a long-time advocate for mental health. "And the excuse is always the same, 'there's no other option.'" But we know there is another option, which is why many people and organizations—including our Baton Rouge chapter—have joined the coalition. The next step is to demand that the local sherriff investigate the unnecessary and sky-high number of deaths in his jail.
People can also hold the system accountable as individuals. Deidra Howard felt like a true citizen when she served jury duty several years ago. Like many jurors, she thought that she took in all of the facts of the case before she sentenced the man on trial to life in prison. But afterward Howard realized that the court had only given the jurors some of the evidence, leaving other pieces out. She felt betrayed by our (in)justice system–as if they had tricked her into sentencing an innocent man. She wanted to change her vote. She wrote to every lawyer and judge involved in the case many times over the course of that next year, but no one seemed to care. The system communicated that it was too late–the indictment was irreversible. 
​A year later, she found out that the man she and the other jurors had sentenced was being released from prison. While Howard can't say that her letters were the first cause of his release, she has a hunch that speaking out helped. Now, she and her sister are working on legislation to create a juror's bill of rights so that all jurors know that not all of the evidence is always presented at trial. Now that the unanimous jury law we championed is in effect, jurors have more power to be like Howard. Since formerly incarcerated people cannot yet serve on juries in Louisiana, we encourage all jurors to ask as many questions as needed, and consider as many factors as possible.
Another effective way to get in where you fit in is by simply sharing your story. Social media makes this easier than ever before, in addition to more traditional outlets like writing a letter to the editor or calling into a radio show. That's how Gary Chambers, founder of the Black media outlet The Rouge Collection, got his start. Chambers saw how no news outlets were reporting on local police brutality or deaths he was seeing in Baton Rouge's parish prison. So he did it himself. He wrote blog posts and op-eds on the topic, doing his own reporting along the way. Slowly but steadily his social media following increased. Chambers began using his voice to hold people like elected officials and police officers accountable. At the summit, he taught attendees how to write our own press releases, submit a letter to the editor, and build relationships with reporters. If you see an injustice happening and everyone else is ignoring it, Chambers told us, you can bring it to light with truthful storytelling.
The summit reminded us that there's room for everyone in this fight, including those still behind bars. Keynote speaker Calvin Duncan, who was wrongfully convicted and sat on death row for 28 years, says that he found his love for legal studies while incarcerated. "I love that the law gives me the power to help poor people who can't help themselves," he says. "Through [knowing the law], I have power like Superman. I want you all have that power, too." 
This year's legislative session begins in a few weeks, so now is the time to harness our individual and collective superpowers. Some VOTE members are very good at connecting people, always bringing two new friends to our monthly meetings. Some of us are super-storytellers, moving crowds of people into action. Some of us are the hope-bearers, keeping our spirits up during trying times. The best leaders among us are all of these at once.
Share your superpower with our movement by signing up for our newsletter. Every other week we send out the latest updates on justice reform, as well as upcoming events, actions and opportunities.