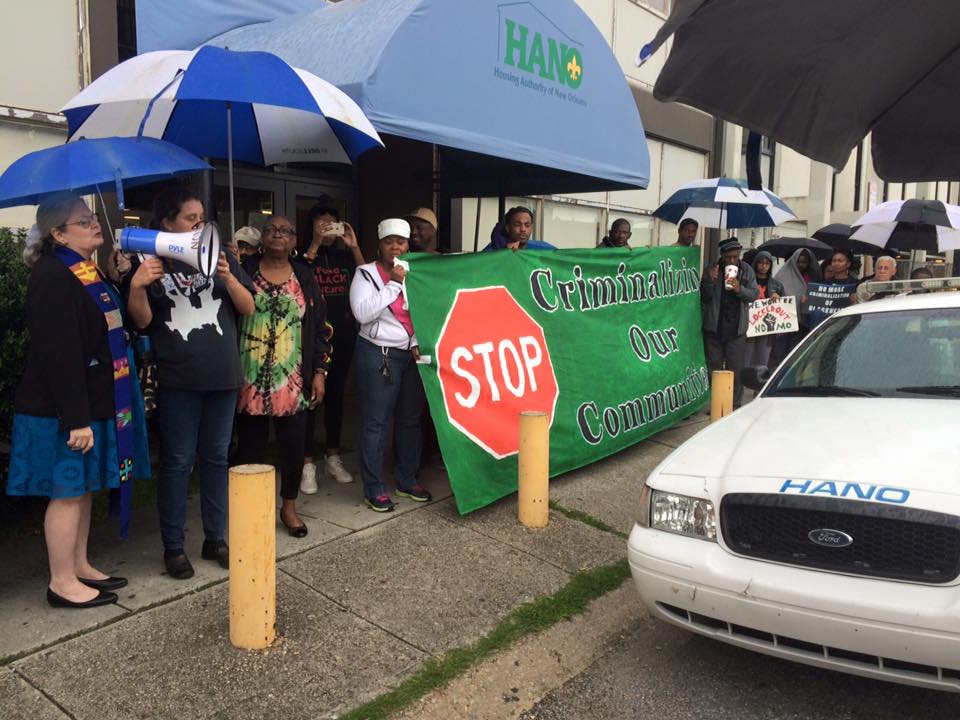 New Orleans, the conviction capital of America, has just created the nation's most progressive, and least discriminatory, public housing and Section 8 admissions policy. It is revolutionary. The Housing Authority of New Orleans (HANO) has heard from the people for several years, including back-to-back hearings of standing-room-only crowds. We held a 24-hour vigil prior to the second hearing, which ended with the HANO board vote. The vigil sent a message to all housing providers: this is the right direction for our community, and we won't stand for anything less.
Discrimination based on convictions, rather than race, have entered all parts of our lives since launching the Drug War nearly 50 years ago. Just last week came the revelation from President Nixon's domestic policy advisor, that the Drug War was always a lie- it was merely a way to target and criminalize Black people and people on the Left. It has worked perfectly. By "disrupting communities," political power is neutralized.
The vigil organized by Stand With Dignity and VOTE successfully brought together a few hundred people for teachings and story circles, including people from the Latin@ and Middle Eastern communities, to discuss gentrification, immigration, and criminalization. Those of us who spent the night in tents, cars, or staying up all night were awakened before dawn to the swarm of media angling to get their morning story.
The new policy takes into account the nature and date of each applicant's convictions, and a three-member panel will review someone's entire circumstances only when necessary. In such a highly impacted city, this affects tens of thousands of families. We pushed for additional amendments to the policy, pointing out that there should be one HANO-controlled board, the policy should explicitly allow people to keep their Section 8 voucher while having additional family members reviewed, creating stronger data reporting, and inserting mandatory language to control the private developers. For the most part, we got what we fought for.
Prior to the roughly 25 people testifying in support of the strongest policy we can get, the Greater New Orleans Housing Alliance presented HANO with a 10 year plan for the city. The plan's thick shiny book was presented to each board member (including myself, as I contributed a small part regarding vast housing discrimination against our highly-criminalized New Orleans residents). The plan calls for passage of the HANO policy, among many other housing objectives, as this issue is now squarely on the front burner. It was a short but perfect introduction to the "strict" three-minute limit testimonies we were all prepared to share.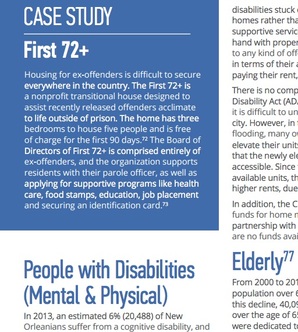 When VOTE Executive Director Norris Henderson later asked the entire board to turn to the GNOHA plan, page 70, most had not taken the book out of the package. "I'll wait," he said calmly. He then referred to the "Case Study" of The First 72+. Norris is a founder of this reentry housing, run for us, by us, without any city funding. A week before, we said they should be embarrassed and ashamed for a government pointing to our housing program without funding it. It is time to stop giving funds to those with a "Not In My Back Yard" attitude. The reality is, the backyard needing affordable housing is bigger than the one that doesn't. 
People with criminal records will finally be able to re-join their families' leases at public housing sites. Section 8 voucher recipients, who make up most of the city's assisted housing, can add family members with criminal convictions to their HANO voucher. The private landlords and developers who contract with HANO are now on the spot, as HANO board chairman Greg Bernal basically said they should implement the policy within thirty days or prepare for a fight. The policy calls on them to provide a "legal justification" why they are not implementing the screening procedures. Those who decline may end up finding activists' tents on their own front lawns.
This four-year battle for a fair policy showcased who is affirmatively furthering fair housing in New Orleans. I never once heard from nor saw a staffer from the Office of Housing and Urban Development. Although HUD is a member of the Federal Interagency Reentry Council, publicly stated how people with records are not automatically denied public housing, and issued a public memo reminding public housing authorities that arrest records alone are not evidence of wrongdoing… they did nothing "affirmative" in this process. In fact, HANO is submitting this policy for approval to HUD. Considering the public nature of this struggle, and our attempts to engage HUD's national support, it is incomprehensible to believe they were not monitoring the situation. Acting "affirmatively" means to positively pick a side, and to "further" fair housing is to make it more fair than the status quo.
Criminal convictions have been used as a proxy for race for decades. And until predominantly White college campuses, ground zero for drug use, are policed as heavily as predominantly non-White public housing- a criminal conviction lacks fundamental fairness. Urban high schools, where there are more police than counselors, are policed more heavily than college campuses; and this is all a choice of resources.
We choose to have a homelessness subsidy in the form of cages. We choose to fund mental health, addiction services, and unemployment with the same thing: cages. We can't pretend that we lack the funds for proper solutions to our problems.
Research shows that people with convictions who have stable housing are much less likely to be re-arrested. This stability provides an opportunity to work on other challenges in our lives, like finding work and raising our kids, and not be living desperately from pillar to post. HANO finally gets it, but our entire city must create a revolutionary budget. Because, while HANO may require new applicants, regardless of their history, to wait 10 years to access affordable housing, Orleans Parish Prison will make you wait about 10 minutes.

Public officials mentioning rehabilitation, recidivism or reentry need to be reminded of specific legal barriers encountered by people convicted of crimes, regardless of severity. Officials need to publicly explain why they will not remove the barriers, such as 389 different employment restrictions in Louisiana, and support successful recovery from a criminal conviction. Whereas most of these restrictions came out of the Drug War, and most disproportionately impact communities of Color, public officials should have two generations of data showing how these restrictions have built a stronger and healthier New Orleans… or admit they have been a total failure.

New Orleans is our home too, and we are all trying to find ways to make it better. In 2013, VOTE released a comprehensive report, "Communities, Evictions, and Criminal Convictions," in an attempt to kickstart this conversation and move this initial policy piece impacting 80 million Americans, and their families.

Our report may be just a bunch of words, along with our press releases, blog posts, model policies, and flyers…yet behind those words is the struggle of people simply trying to live. None of those people were more powerful than a man we met at the vigil. He was homeless. We ate together, watched a film, and shared in the story circle. When he testified before the board, and tried explaining his hardship, he couldn't get his own bunch of words out. The tears he shed spoke volumes, and out of the corner of my eye I noticed how someone stopped his three-minute clock to give him time to regain composure. He never did, but he didn't need to. His very presence spoke the truth.

We look forward to other cities taking the lead of New Orleans, until the time when the leadership of HUD can bear witness to the truth we live day after day. It is a federal program, and is subject to one sweeping federal solution.