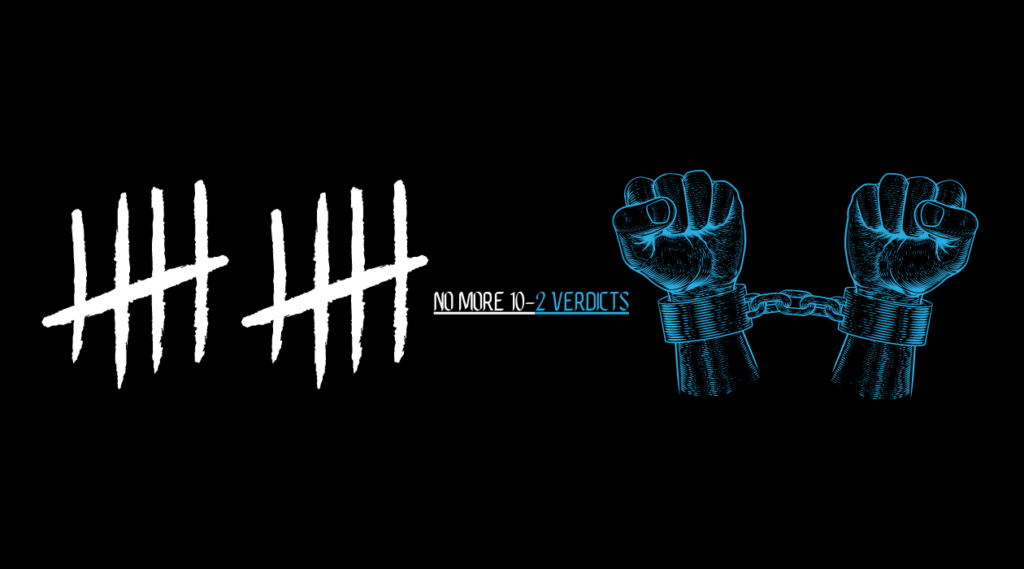 Legislative Session Updates
NON-UNANIMOUS JURY RETROACTIVITY
OUR CURRENTLY INCARCERATED MEMBERS REACT TO HB 1077
Legislators at the Louisiana Capitol have expressed various motivations regarding prison issues, including the current legal challenge regarding approximately 1500 people who languish in prison with non-unanimous convictions. Most of these people are currently sentenced until their death. The U.S. Supreme Court instructed Louisiana that retroactively reversing these (now universally recognized as) unconstitutional convictions is up to them, and both the legislature and courts have been called upon to act.
VOTE's most recent email to legislators regarding HB 1077 invited them to visit people in prison and ask their views on the bill. And only yesterday, in a hearing regarding counting incarcerated people as "residents" of a district for the purpose of apportioning legislative power, several legislators expressed their close connection to the prisons. Rep. Lacombe, who represents 6000 residents confined in Angola, called them a part of the "community." Rep. Deshotel, who represents people confined in two prisons in the Cottonport area mentioned his support for capital outlay projects (a.k.a. prison construction and repairs). Rep. Ivey explained how he hears from people in prison "all the time," albeit via family members of the currently incarcerated. Rep. Gaines, who sponsored HB 1077, has expressed how he is trying to help the 1500 convicted through Jim Crow trials, and believes this bill, creating parole eligibility, may be the best we can do.
Despite all those declarations of community, we've heard no responses from lawmakers wishing to visit.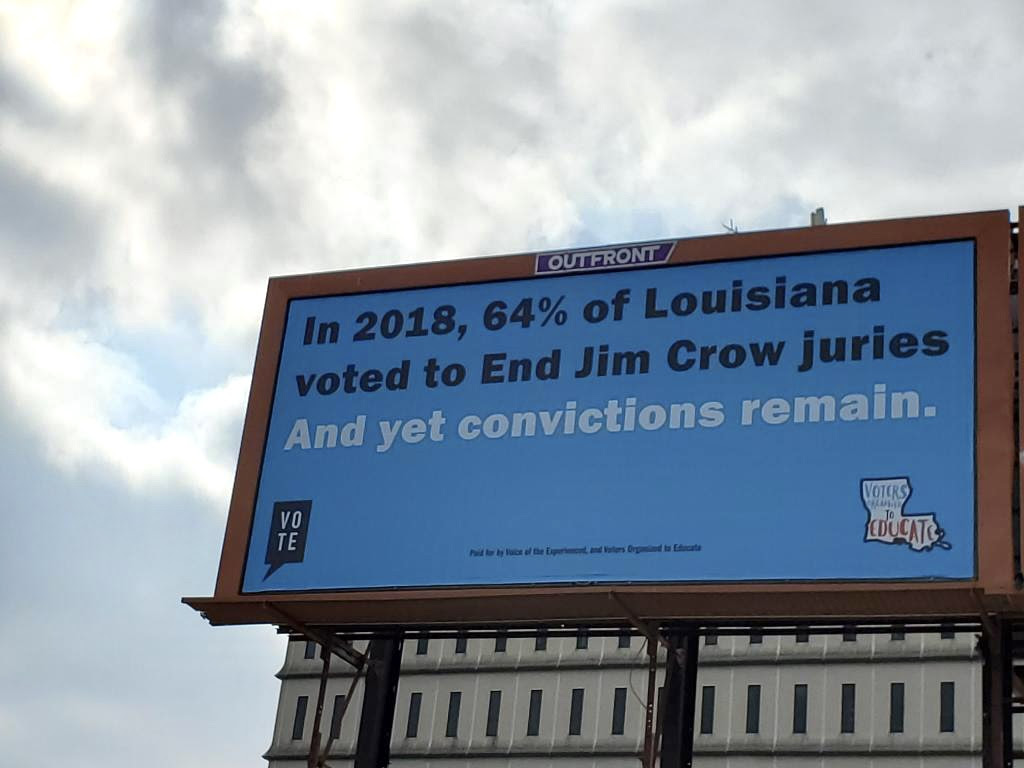 "I speak on behalf of all the guys here at Angola when I say we appreciate all the hard work VOTE and PJI has put forth on our behalf because of the injustice that was done to minorities since 1898. Our country is supposed to be based on freedom and equality. However, there are people that just refuse to give up their evil ways. We will prevail though. No retreat, no surrender is the key is most definitely our motto. It's hard to picture the mindset of the person responsible for making 744 (1077). He wants to offer parole for an unjust act only if we can prove that we are actually innocent of the act that's totally unjust. It makes no sense at all." – Lionel W.
Read what those of us on the inside had to say on our website, here. 
HB 846: PRISON GERRYMANDERING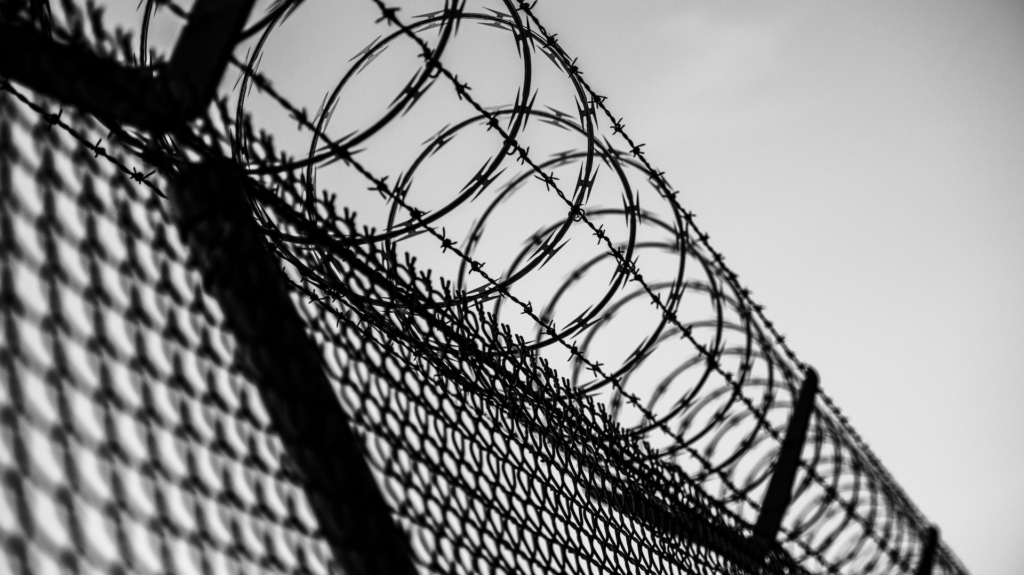 HB 846, authored by Rep. Denise Marcelle, states that if incarcerated people are counted as residents of a district, for redistricting purposes, they should be given the right to vote as residents of those districts. If they are not given the right to vote, then they should not be counted in the district of the prison in which they are being kept.
Currently, Louisiana prisons are exercising a practice known as prison gerrymandering. Prison gerrymandering increases the population and political power of districts where prisons are located at the expense of urban areas. This has dire racial consequences as well. Louisiana prisons are often placed in rural areas where the population is majority white. We already know the state incarcerates black men and women at much higher rates than white people. In 2017, black people made up 67% of the prison population in this state, while white people only made up 33% of the population. This was according to a study done by Vera.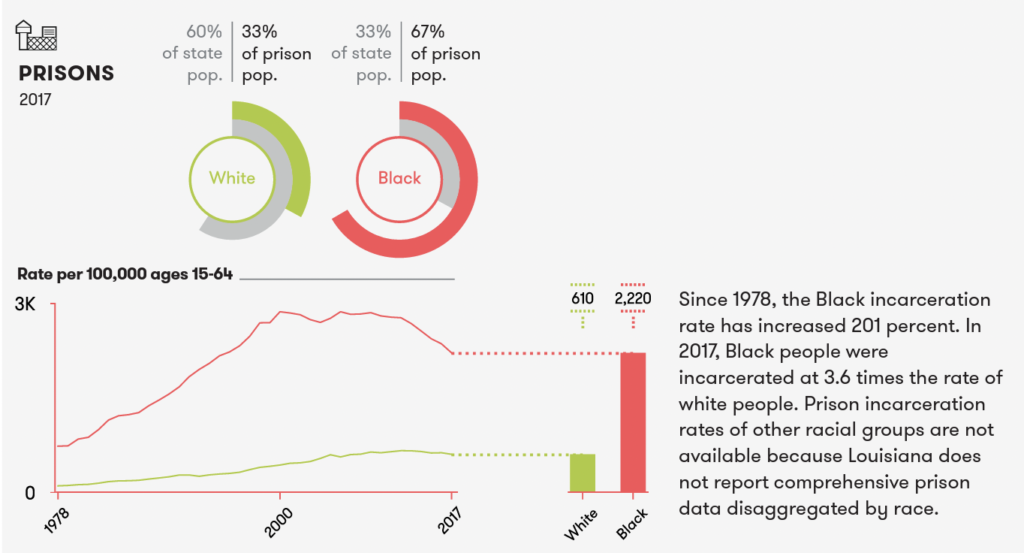 SB 342: CRIMINALIZING ABORTION CARE
SB 342, authored by Sen. Katrina Jackson, would increase the penalties for abortion providers if Roe v. Wade is overturned by the U.S. Supreme Court. Currently, prison terms are from one to five years with fines from $5,000 to $50,000 for abortion providers.
Senator Jackson's bill would increase those penalties from one to ten-year prison terms and the fines would range from $10,000 to $100,000. Unlike Rep. Danny McCormick's bill, Jackson included language that would prevent criminal penalties against women who end their own pregnancies. Although Jackson's bill doesn't penalize women who have abortions, other existing statutes would still do so.
Bruce Reilly, Deputy Director of VOTE stated, "…my mother was someone who was forced to give birth. When I was 2 months old I went into foster care for 5 years and then I showed up in a household that had an abusive stepfather, and then I was homeless as a teenager. I don't remember all those people forcing her to have [me] being there…".
Jackson's bill passed through the committee with a vote of 10 yeas and 2 nays. Watch Reilly's full testimony below.
HB 544: VILLIO WANTS LONGER PRISON TERMS
Earlier this week, Senate Judiciary C Committee heard Rep. Villio's bill, HB 544. This legislation would increase prison terms for those convicted of four or more non-violent crimes. Those in opposition to the bill believe it disregards the Louisiana Justice Reinvestment Package of 2017. This package has four main goals: focus prison beds on those who pose a serious threat to society, strengthen community supervision, clear away barriers to successful reentry, and reinvest a substantial portion of the savings into evidence-based programs that reduce recidivism and services that support victims of crime.
Villio claimed "The whole point of those dollars being invested in these programs is to help keep recidivism from happening. They're not even getting the benefit because they're rolling out, they're back in, and they're rolling out again."
Michael Cahoon from the Promise of Justice Initiative stated, "The repeat nonviolent offenders – about 3,000 people are in prison on a fourth conviction – almost exclusively are drug crimes and addiction-related crimes."
HB 544 passed and is scheduled for a final vote in the Senate on May 23.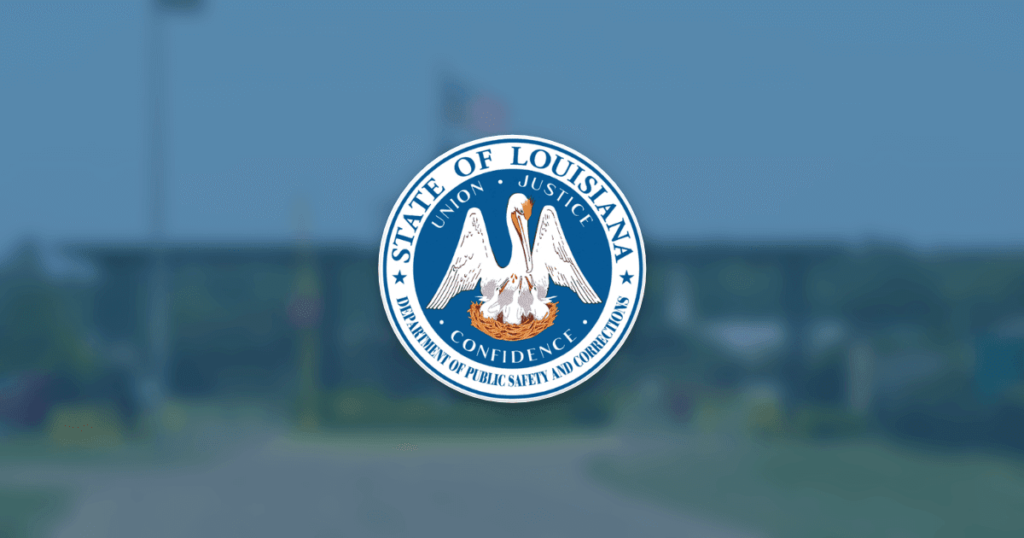 REP. DANNY McCORMICK RESIGNS
Monday, May 15, Rep. Danny McCormick resigned from the House Civil Law and Procedure Committee. He stated that he believed the committee had no intention of scheduling his bill, HB 344, and would not allow it to complete the legislative process during this session. HB 344 would have "prohibited the state and its political subdivisions from enforcing, administering, or cooperating with the decision and judgments of the United States Supreme Court in Roe v. Wade."
"I have no desire to sit on a committee which actively lobbies to kill legislation before a fair hearing…" said McCormick. Read the full letter below.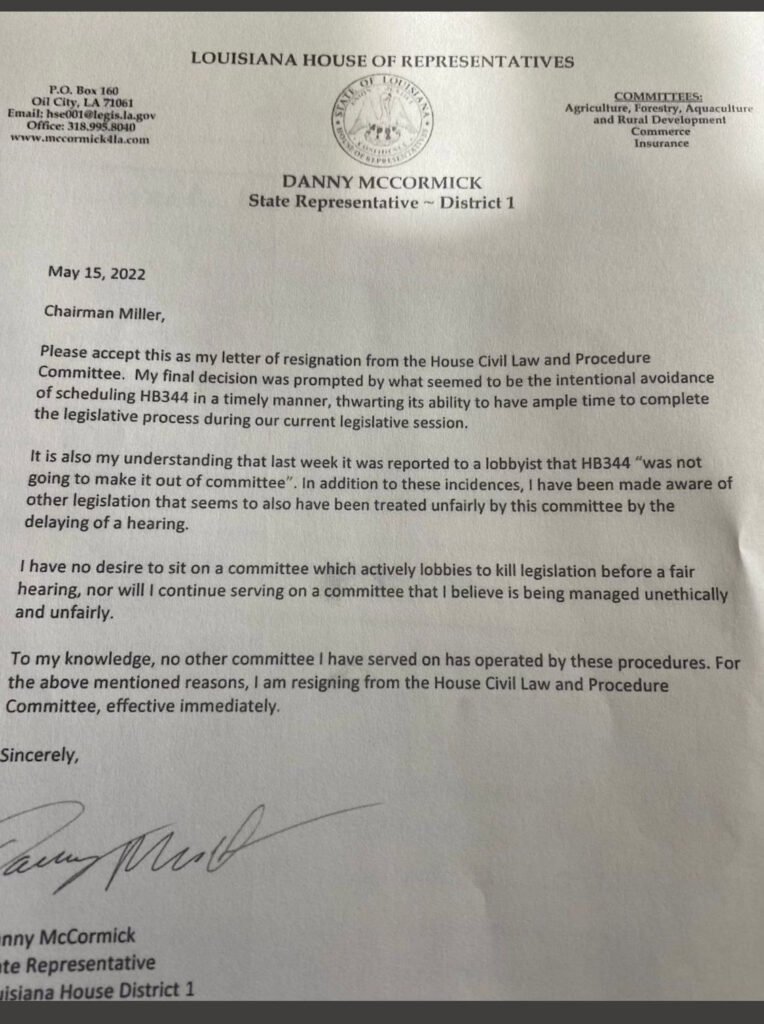 Coming Soon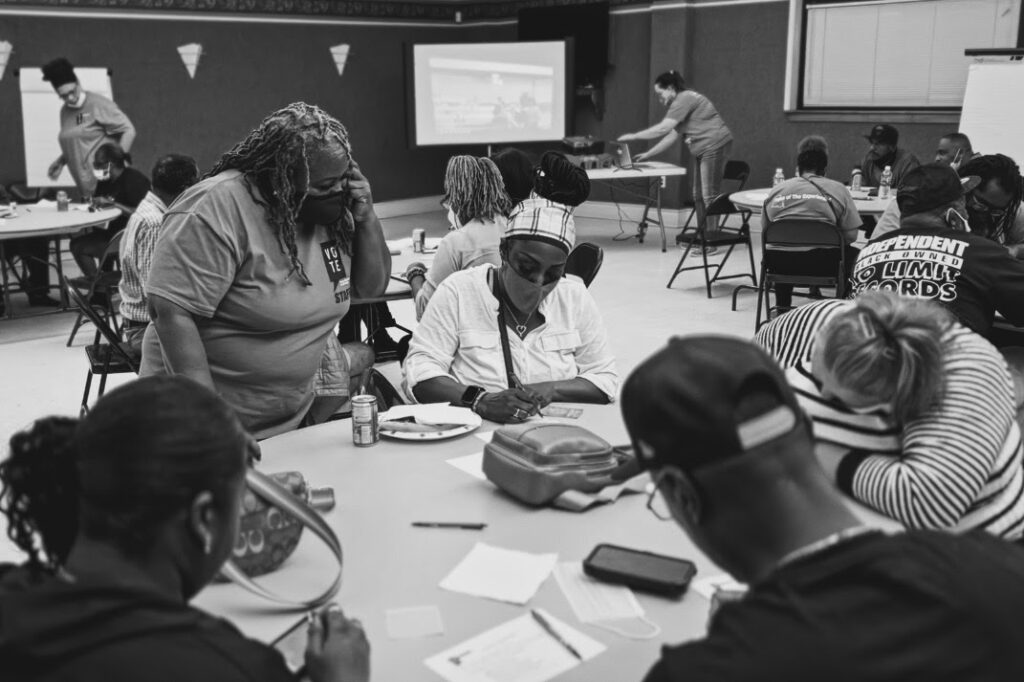 Lafayette Chapter Meeting:
TONIGHT: Thursday, May 19, 6-7:30 PM
Lafayette Public Library, Downtown
301 West Congress Street
Lafayette, LA 70501
VOTE Lafayette meetings have now changed from the 4th Monday of every month to the 3rd Thursday of every month.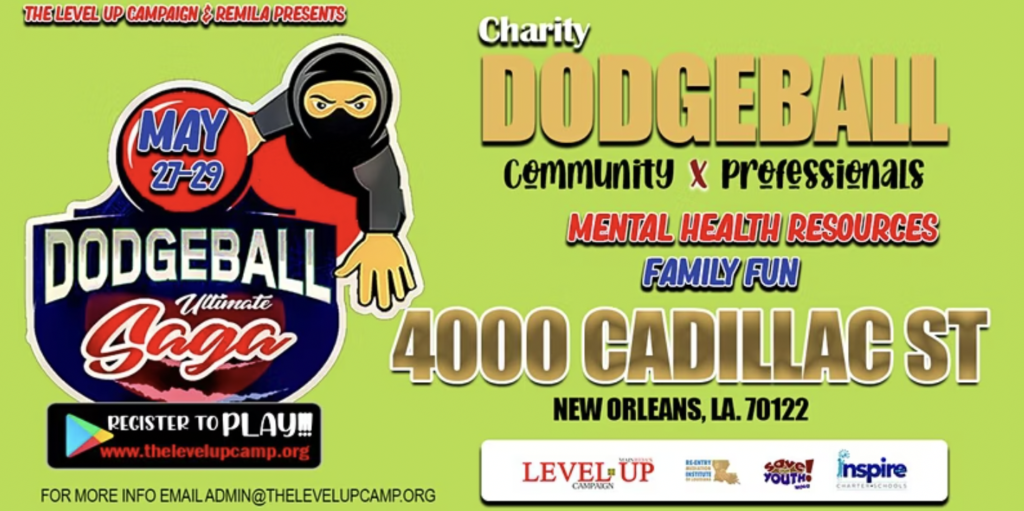 Level-Up Charity Dodgeball
Dodgeball Saga is a charity exhibition with teams of 6 battling to own bragging rights and team recognition for being the ultimate dodgeball champion of New Orleans and assisting with highlighting mental health issues that our communities are suffering from post-Covid-19. Level Up weekend will give youth and families an unforgettable experience and align professional health resources to individuals in need of assistance. You are invited to join us as we come together for a greater cause, to promote a more safe and healthy community for young people to thrive and be productive. The event will take place over 3 days May 27, 28, & 29, with activities for all ages to engage and be youthful. VOTE will be participating in the event on Saturday, May 28.
If you would like to register a team or just come and enjoy, sign up here!
For more information on VOTE's upcoming meetings and events, please review our calendar.