February 2000, a fight breaks out in a hole-in-the-wall club in Slidell, Louisiana. It was an open mic night hosted by New Orleans rapper Mac "The Camouflage Assassin" Phipps, showcasing a crew of up-and-coming Black artists in front of a large and rowdy crowd. First came the sound of a smashing bottle, then a gunshot, and then a young man lay dying on the floor. Although a slew of eyewitnesses would come forward to police and identify another man as the one who pulled the trigger, St. Tammany's infamous district attorney Walter Reed would convict Mac for the crime.
Today, Mac is still imprisoned at Elayn Hunt Correctional Center.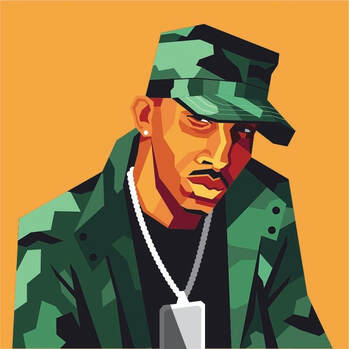 In 2019, after three decades of Walter Reed's incumbency helped gain the parish the nickname "Saint Slammany," a new DA was elected. One who the public doesn't fear.

A new DA who could deliver Mac the justice he deserves. Mac was charged just a few miles away from the city he had always called home, a city with a legacy of over-incarceration that overshadows that of "St. Slammany," a city that, come December 5, has a big vote on the ballot.

​New Orleans.
A district attorney wields enormous power, a power that—in thousands of cases over the years—can be seen leaning either toward fair and balanced judgement, or toward its opposite, in cases where the DA's personal bias and allegiance to law enforcement over "the people" is clear. The good news? We elect our DAs.
And here in New Orleans on December 5, we have the opportunity to move our city toward meaningful criminal justice reform, toward progress that serves the people instead of the PD.
We have the chance to create a justice system that could transform New Orleans. This city's unmistakable, original, and beautiful culture was cultivated by enslaved people who carried the heritage of their homelands with them. These, crossed with the influences of both the colonizers and the indigenous people of what became New Orleans, created a unique hybrid that one can only truly understand while in the city itself. So it makes sense that this city, a place that could not exist without the legacies of occupation, slavery, and racism, would also hold the sinister and shameful title of Most Incarcerated.
We incarcerate more people here in New Orleans than anywhere else in the country. To be clear: "Louisiana has an incarceration rate of 1,052 per 100,000 people (including prisons, jails, immigration detention, and juvenile justice facilities), meaning that it locks up a higher percentage of its people than many wealthy democracies do." (source: Prison Policy Institute)
"The United States Attorney is the representative not of an ordinary party to a controversy, but of a sovereignty whose obligation to govern impartially is as compelling as its obligation to govern at all; and whose interest, therefore, in a criminal prosecution is not that it shall win a case, but that justice shall be done. As such, he is in a peculiar and very definite sense the servant of the law, the twofold aim of which is that guilt shall not escape or innocence suffer. He may prosecute with earnestness and vigor– indeed, he should do so. But, while he may strike hard blows, he is not at liberty to strike foul ones. It is as much his duty to refrain from improper methods calculated to produce a wrongful conviction as it is to use every legitimate means to bring about a just one."
—Justice George Sutherland, Berger v. United States, 295 U. S. 88 (1935)
The District Attorney has the power to change the course of our criminal justice system. How? By refusing to charge kids as adults, by not charging people under habitual offender laws, erasing the system of cash bail, and holding police accountable. And that is just the beginning. A DA is responsible, along with the police, for gathering evidence for trial. They also set mandatory minimums, and have a huge voice in policy and reform –as the ACLU breaks down in their blog explaining the DA's power: Over the last several legislative sessions, community activists, academics, and criminal law reform advocates have championed evidence-based reforms to decrease incarceration and promote a more fair and equitable system of justice.
On December 5, New Orleans has the chance to elect a progressive DA to the bench. But the only way that's going to happen is if we show up and vote.
​
Do you have a voting plan? Are you registered? Do you have a felony conviction and want to know if you can vote? We got you: call or email us at 504-571-9599, [email protected]
To hear more about Mac's story, check out Louder than a Riot, a podcast about prison and hip hop.
​
Sources:
https://www.prisonpolicy.org/profiles/LA.html
https://www.nola.com/news/crime_police/article_b704b39e-1fec-5ca4-bdcc-5c85d4cf615a.html
https://www.justice.gov/usao/page/file/1038771/download
https://www.aclum.org/en/news/district-attorney-101-power-they-wield