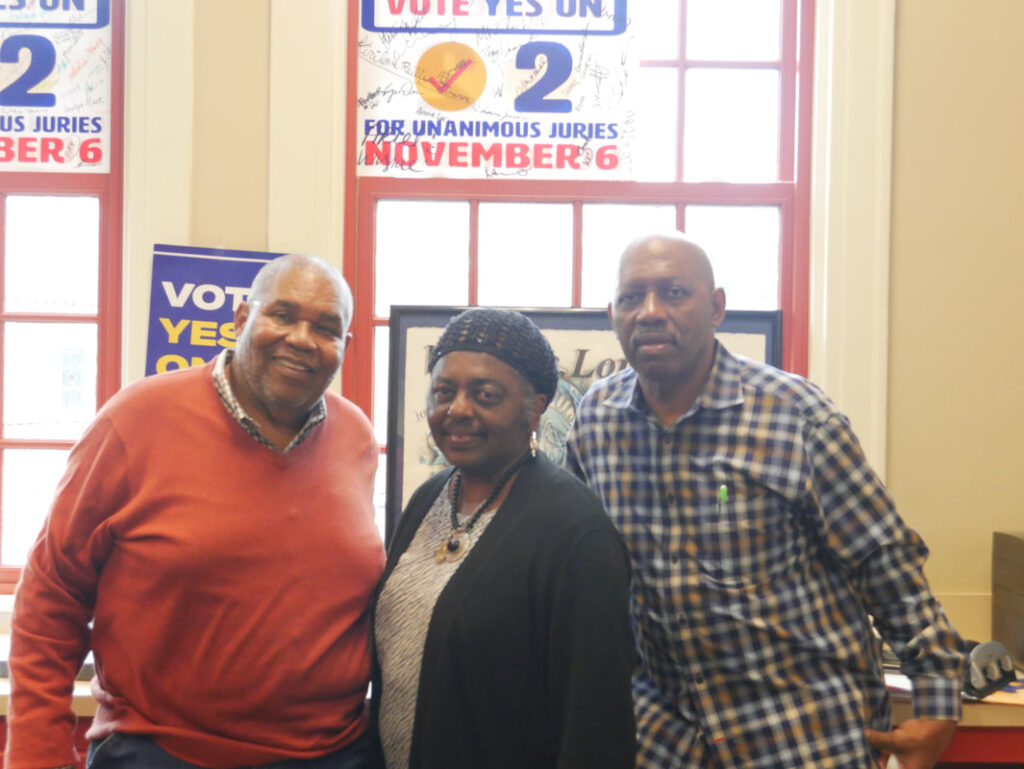 In the mid 1980s, our Founder and Executive Director was part of the Lifers Club at Angola State Penitentiary–a group of men who were told they'd never have a chance to come home. Refusing to accept this fate, they started to do research. Together the Lifers wrote to other people doing life in 10 Southern states, asking about their sentencing laws and reform. To the club's surprise, they got responses indicating that so many states were fighting for the same reforms as our leader and his friends. They used the letters to draft a legislative bill that aimed to reduce the sentences of people serving life without the possibility of parole (LWOP). Hungry for change, they were disappointed to learn that they needed a legislator to sponsor and file the bill for them. So they wrote to Louisiana state lawmakers, but this time they didn't get many letters back. Shortly thereafter, Henderson was sharing about feeling dismayed at the Lifers' monthly meeting, which certain people on the outside were allowed to attend. When he had finished speaking, a woman sitting in the front row stood up. "My name is Naomi White Warren," she said. "I'm a newly-elected state representative from New Orleans, and I'll take your bill on for you." The Lifers' stories, voices, and perseverance inspired Rep. Warren (now Farve) to join their fight for freedom. "The excitement in the prison was off the chain," says Henderson. Unfortunately, as that year's legislative session went on, it was clear that the bill wouldn't pass. Yet the bill was still a huge success, not only because it finally passed many years later, but because it was the first time in VOTE's history that our people–the ones closest to the problem–organized to the point of changing the entire trajectory of their lives. Today we carry on this legacy by fighting for more bills and more reform at the Capitol. Every year, our collective voice gets stronger. Here's what we're fighting for this year, and how you can join us.
Protecting the rights of people facing convictions
While our (in)justice system promises we're innocent until proven guilty, we know that's often not true for many groups of people, including those who are poor and of color. In many states including ours, someone awaiting trial can be held in jail for years–even though they haven't been convicted of any crime–if they're unable to pay ever-increasing fines and fees. This pretrial detention punishes poor people and then profits off of them, as the fines and fees they're forced to pay are funding the salaries of judges–the very people setting the bond people need to pay to get out. Clearly, this is a conflict of interest and was even ruled unconstitutional by a federal consent decree last year. For that reason, one of our priorities this session is reducing the number of poor people in jail by holding our judicial system accountable to how fines and fees are created and used. 
The system also wrongs people facing a conviction by not telling them what the full consequences of taking a plea deal are. Instead, lawyers often present a plea deal as the smartest option, but they leave out that we'll face such consequences as losing our right to vote and access to public housing, among others. The bills we advocate for this session will make sure anyone offered a plea deal is fully informed about these collateral consequences before making such a big life decision. And the legislators deciding on these bills listen best when there are people who have been directly impacted by them at the hearings. "When we advocate for ourselves, we have hundreds more that we're also advocating for," says Rene Smith, our new Baton Rouge Organizer. "We can't be afraid to tell our story–it could change the mind of a legislator and [affect] the lives of so many."
Strengthening the rights of people behind bars
We also need more voices to strengthen the rights of people already in prison. We'll be reforming probation and parole eligibility, LWOP sentencing, and medical service standards for people on the inside. Long-time VOTE member and now our New Orleans Organizer Donald Arbuthnot is excited to fight at the legislature. He's especially interested in medical rights because he was so impacted by a lack of medical care while he was in prison. Once when he had food poisoning, instead of giving him treatment, the prison infirmary put Arbuthnot in a "tank"–a freezing room with concrete benches. "I was balled up in a knot, in so much pain," he explains. Since so many of the prison medical staff were once doctors but had had their medical licenses revoked, he waited overnight in that room for a qualified doctor to come and diagnose him. Luckily, Arbuthnot was not permanently harmed by the incident. But many of Arbuthnot's friends who went to the infirmary were misdiagnosed, mistreated or never came back. "[The prison] killed them," he says. "A lot of it came out of their deep hatred and racism for people of color." Arbuthnot encourages all formerly incarcerated people to come to the Capitol and change this common story. "When we speak from our experiences in prison," Arbuthnot says, "we can only say the truth."
Defending the rights of formerly incarcerated people
When we fight as a united front, we win. Last's why another part of our strategy this year is defending the rights that we've already worked so hard for, including our right to vote. In 2018, we passed Act 636, which restored voting rights to 40,000 Louisianans with convictions. But since it went into effect on March 1 of last year, the DOC and Secretary of State's office have put up so much bureaucratic red tape, making it extremely difficult for those eager to vote to get registered. "They don't want it to be simple," says our Shreveport Organizer Felicia Smith. "They want you to jump through hoops so you get tired and don't vote." We're not going to let lawmakers take away rights that we've poured countless hours of sweat and tears into, which is why we need more voices than ever involved in this legislative session. With so many wins behind us, there's that much more to defend. 
Getting Involved
We know that sometimes getting involved is easier said than done. But we have some resources–made by us and for us–to get you started. New to the legislative process? Check out How a Bill Becomes a Law (it's more interesting than Schoolhouse Rock, we promise). Want to speak in front of legislators about your experiences with the (in)justice system? Check out our video explaining How and Why We Testify. Want to attend one of our upcoming events but want a sneak peek of what it's like? Check out this Facebook live video from Lobby Day three years ago. 
We'll also be offering multiple trainings on how to make an impact at the Capitol, since we know that we're all learning together and have a range of experiences. Upcoming sessions include Pre-Lobby Day on Tuesday, March 3 followed by Lobby Day on Tuesday, March 24 (click the links to RSVP).
When we advocate, it's not just for ourselves, but for everyone who is still voiceless. "If you're inside of a cell," says our new Lafayette Organizer Marcus Simmons, "and you stick your hand out of the bars, the arms don't forget about the body. I'm the arms now, and I can't forget about the people still stuck inside. To the system, these people are just a body and a paycheck. But to me, they helped me to survive when I had no family, no soap or deodorant. The least I could do is be their legs and their voice."
In addition to the upcoming events listed above, we also have monthly meetings around the state, which are a low-stakes and easy way to join our work. New Orleans meets on the first Wednesday of every month, Shreveport meets on the third Thursday, Lafayette meets on the fourth Monday, and Baton Rouge meets on the fourth Thursday. For specific dates and times, check our our calendar.